How to Buy
Hosting Controller offers different families of products for different business needs. We have categorized these products under different heads. These modules are HC CSP, HC Microsoft 365, HC Enterprise Suite, HC ADSync Tool, HC Iaas Delivery Platform, HC Shared Hosting and Add-Ons.
Refer to HC License Selection Guide for better understanding of HC Licensing.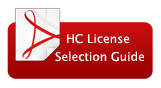 If you are an existing customer login to License Management System to place new orders, buy upgrades and manage your existing licenses.
If you are a new customer contact HC Sales to get a quotation and have account setup in License Management System.*

Hosting Controller has ensured easy way for e-transfer and thus accepts payments through all major credit cards i.e. Visa, MasterCard and American Express. Moreover, you can also pay via PayPal. Also, HC allows you to purchase the license through electronic wire. All electronic wire transfers should be sent to our bank account.
For more details regarding bank account number and payment process, please write to our sales department at sales@hostingcontroller.com.
---
Each of your purchase comes with following:
Language Packs (Subject to availability)
Hosting Controller customers are provided 12 months of standard support & upgrade protection coverage with the purchase of new license(s). Upgrade protection includes access to all major and minor version upgrades for 12 months from the date of purchase at no additional charge. During this time, customer can download and install any minor version upgrades and, if Hosting Controller issues any major release before expiration date, the license can be upgraded to the latest version for free. With HC upgrade protection coverage, customers will always have access to the latest features and fixes. Read the document for details on SSUP Policy ***
Installation & Configuration of HC
* All prices are in US dollars
** We charge additional Fee when you request a paper invoice or other documents to be mailed to you. This fee is charged for each paper document that you request. You can certainly avoid these charges by receiving PDF version of the invoices and other documents via Email. The PDF version contains the same information as a paper copy.
*** Subject to change in policy anytime.(Products purchased on promotional price will only be entitled to free installation and language packs but not entitled to hotfixes and free upgrades to new versions unless it is stated otherwise in the contract offered at the time of initial purchase.)