How to Buy
Hosting Controller offers different families of products for different business needs. We have categorized these products under different heads. These modules are HC CSP, HC Office 365, HC Enterprise Suite, HC ADSync Tool, HC Iaas Delivery Platform, HC Shared Hosting and Add-Ons.
Refer to HC License Selection Guide for better understanding of HC Licensing.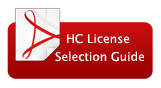 If you are an existing customer login to License Management System to place new orders, buy upgrades and manage your existing licenses.
If you are a new customer contact HC Sales to get a quotation and have account setup in License Management System.
HC Exchange
HC Exchange provides automation control panel for Microsoft Exchange Server 2016, 2013 and 2010.
Request Quote
HC SharePoint
HC SharePoint provides a reliable interface for provisioning and management of Windows SharePoint Services.
Request Quote
HC Skype For Business
HC Skype for Business provides an all-inclusive web interface to the provisioning of Skype for Business accounts.
Request Quote
Efflux Migrator
Migrate Exchange mailboxes efficiently across any two Active Directory forests. Automate your cross-forest Exchange moves.
Request Quote
Microsoft CSP
Enabling technology allowing CSP partners to manage and automate service provisioning of Office 365, Exchange and Azure.
Request Quote
Office 365
Provision customers, users and subscriptions directly into Office 365 with Hosting Controller's pre-integrated interface.
Request Quote
Microsoft Azure
Let's users tap into the Microsoft Cloud for the purpose of creating Windows/Linux virtual machines.
Request Quote
Amazon Web Services
Create as many or as few virtual servers as needed in the Amazon Web Services (AWS) Cloud.
Request Quote
HC IaaS Platform
A solution suite for IaaS and Virtualization providers that includes support for Hyper-V and VMware ESXi.
Request Quote
HC ADSync Tool
HC ADSync Tool performs a one-way synchronization of identities (users,groups) between Active Directories.
Request Quote
HC Hosting Panel
HC10 is a complete web hosting automation control panel to manage both Windows & Linux servers.
Request Quote
Mail Data Migrator
Migrate email across any messaging platform, from any source to any destination with a web based utility.
Request Quote
HC Dynamics CRM
HC Dynamics CRM offers service providers the opportunity to easily manage Dynamics CRM hosting operations.
Request Quote
rebuildXpress
rebuildXpress Instant Recovery is a revolutionary tool, an add-on to Hosting Controller that provides rigorous backup and restore.
Request Quote

Hosting Controller has ensured easy way for e-transfer and thus accepts payments through all major credit cards i.e. Visa, MasterCard and American Express. Moreover, you can also pay via PayPal. Also, HC allows you to purchase the license through electronic wire. All electronic wire transfers should be sent to our bank account.
For more details regarding bank account number and payment process, please write to our sales department at sales@hostingcontroller.com.
---
Each of your purchase comes with following:
Language Packs (Subject to availability)
Hosting Controller customers are provided 12 months of standard support & upgrade protection coverage with the purchase of new license(s). Upgrade protection includes access to all major and minor version upgrades for 12 months from the date of purchase at no additional charge. During this time, customer can download and install any minor version upgrades and, if Hosting Controller issues any major release before expiration date, the license can be upgraded to the latest version for free. With HC upgrade protection coverage, customers will always have access to the latest features and fixes. Read the document for details on SSUP Policy **
Installation & Configuration of HC
** All prices are in US dollars
** Subject to change in policy anytime.(Products purchased on promotional price will only be entitled to free installation and language packs but not entitled to hotfixes and free upgrades to new versions unless it is stated otherwise in the contract offered at the time of initial purchase.)