Download Installable Language Packs
Are you an enterprise with a global presence? Are you in dire need of cashing in on geographic diversity? Reach out to your global audience with Hosting Controller Multi-lingual provision.

Hosting Controller is shipped with a selection of default languages. Additional language packs are listed on this page as soon as they become available. The language packs constitute a smaller download, which are manually retrieved from the Internet and then installed on your local Hosting Controller application.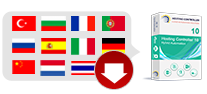 Once installed, you can switch between the current interface language and the installed one from Control Panel Account | Display Settings.